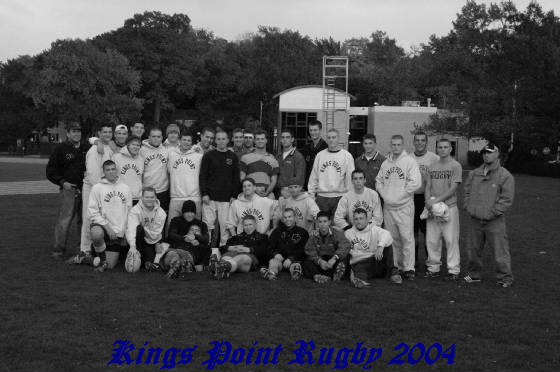 Welcome to Kings Point Rugby at the United States Merchant Marine Academy. We are a Division 1 Met Union team that is lean mean and generally fearless. The personalities on this team are diverse, yet they are woven together brilliantly to create the violent rugby symphony that is KPRFC. Undisputed Raw animals. This is our site, hear our cry and fear our wrath.
Starting at the top left:
Garrard, Kraig Josephic, Chris Renders, Jess Waters, Ross Mansfield, Chris Buccola, Paul Butler, JP McKinley, Matt Garcia, Mike Graham, Jordan Iannacchino, Brandon Wooton, Cory Walls, Harry Hutchinson, Aaron Rockwell, Scott Nicola, Justin Briscoe, Scott Holub, Charlie Boozer, Darin Rupinski, Coach: Tony Connors. Bottom: Duncan Gills, Tom LeVac, Nic Hammers, Tony Aiello (in his lap), Matt Roberts, Travis Hannabrink (Below Roberts), Garret Crysler, Nick Rall (below Crysler), Jason Rooney, Chris Smeglin, Jeremy Buxton (below Smeglin). Not Pictured But Loved: Our Team Ma. Kelsey Newell

New Spring Schedule 2005

April 5th – Friendly @ SUNY Maritime- W 37-12 (they stopped keeping track after 37)

April 8,9,10 – Cherry Blossom in Washington D.C (on reserve)

April 9,10 – Big Apple Classic at Randal's Island

April 16,17 – Beast of the East in Providence, RI

May 7 – Long Island Rugby Club Tournament @ Lido Beach
Final Thoughts on the Fall Season:
Ruggers,
This school has lots of teams, but it only has one family. Even though there will be no MET, I wouldnt give this last fall season up for the world.
-Matty Garcia
KPRFC-
I want to thank you guys for the best fall I've had here at the academy. This year's team was quite a compilation of unique characters, and possibly the wierdest group of individuals ever. Thanks guys, and good luck with the spring.
-Cory Walls
To The Boys of KPRFC, No Other Place Will People Play With A Torn Miniscus, A Major Concussion, A Pulled Quad, Half a Shoulder, etc. No Other Place Would You Find a Brotherhood As Tight As Ours. THANK YOU FOR A GREAT SEASON.
-Buxton
You know, pulled quads, torn meniscuses, dislocated shoulders, sprained ankles and major concussions aside, there aren't a whole lot of brotherhoods that would let a girl play, let alone feel welcome. Thank you guys for a great season and good luck in the spring.
-Kelsey Newell
Spring Season is NOW!! look for updates as practice starts on tuesday March 15th
KPRFC